Since inception, The Global Good Fund has been honored to serve Black men and women across America, and around the globe. As Black History Month comes to a close, we honor the work of these brilliant 2021 Fellows creating long-lasting change in Black communities, and beyond.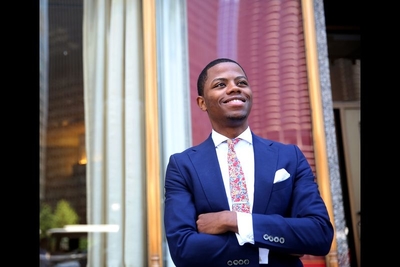 Derrius Quarles // Co-founder + CEO // BREAUX Capital
Derrius was born on Chicago's South Side as the Grandson of a Mississippi sharecropper and Great Migration participant. He is a 13-year foster care survivor, traversing four foster homes, welfare, and public housing through childhood. These experiences meant Derrius grew up with a keen understanding of how poverty, income inequality, and social disenfranchisement impact lives, and from a young age, he envisioned a life of significance for himself.
Derrius secured over $1M in scholarships to attend Morehouse College in Atlanta. With a $500 investment and two other co-founders, the idea for BREAUX Capital was born on campus. BREAUX is a financial technology company that is helping Black Men pool their funds in community with one another to invest collectively and create intergenerational wealth.
Coined a "financial prodigy" by The New York Times, Derrius' work has been covered by prominent international media outlets including The Associated Press, Black Enterprise, and CNN. He was recently named to Inc. Magazine's 30 Under 30 innovators list, and delivered a TED Talk at TED Headquarters to propose a new model for addressing financial wellness in communities that have been traumatized by racism in the financial service industry.
Evin Robinson // President // America on Tech
Evin was once the student he now serves. Growing up in Brooklyn, he went through New York City's K-12 school system and became the first in his immediate family to finish college with an undergraduate and graduate degree and work in corporate America.
Founded in 2014, America On Tech (AOT)'s mission is to prepare the next generation of technology leaders in order to decrease the economic and racial wealth gap in underestimated communities. AOT knows there is a pathway for low-income students in tech education, yet Blacks and Latinxs represent less than 18% of the tech industry nationwide. They make up less than 10% of degrees conferred in Computer and IT each year and are ultimately shut out of opportunities for economic advancement. AOT's multi-layered program continuum creates a pipeline of highly trained low-income students to decrease the economic wealth gap and create pathways to degrees and careers in the technology ecosystem.
Evin has been recognized as an American Express Leadership Fellow, Pahara Institute – NextGen Fellow, Forbes Under 30 Lister, NY City & State Tech Honoree, Black Enterprise Modern Man, Kauffman Entrepreneurship Engagement Fellow and CUP Fellow.