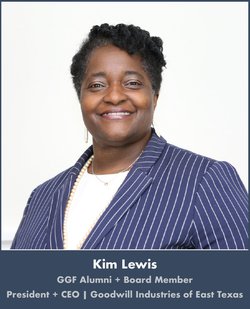 At the beginning of 2021, Goodwill Industries of East Texas was the recipient of a 3-year $300,000 grant from Microsoft Corporation to Accelerate Job Training and Digital Skills in the Black and African American Community. Why are we so excited about this? Because the CEO of Goodwill Industries East Texas is a GGF Alumni, and the newest member of our board of directors. Through Kim's leadership Goodwill of East Texas will further their mission to provide skills training and vocational opportunities for people with barriers to employment. 
As a result of these funds, Goodwill Industries has launched "GoodBiz," a 6-month entrepreneurial business leadership program, for new and budding entrepreneurs. This program will help participants to enhance their digital skills as they sharpen or acquire business skills. Kim Lewis knows first hand the importance of leadership development as she participated in The Global Good Fund Fellowship back in 2019.
The "GoodBiz" leadership program will be implemented by The Global Good Fund, a nonprofit social enterprise focused on leadership development. "Goodbiz" will advance the participants' individual leadership capacity, increase their ability to manage and grow their businesses more effectively and develop core business competencies and leadership practices. Participants will gain a community of peers who will serve as a continuous support system through their entrepreneurial journey.
At the beginning of the program, participants will complete a baseline evaluation of their leadership skills, organization, and current social impact utilizing Global Good Fund's proprietary 360 MIRROR assessment. The evaluation results will inform each participant's work with the leadership coach and will be critical in identifying the leadership goals they choose to work on improving through the program. At the end of the program, participants will complete a survey that tracks their progress in three areas: meeting their leadership goals, improvements in their internal management practices, and improvements in their business growth goals.