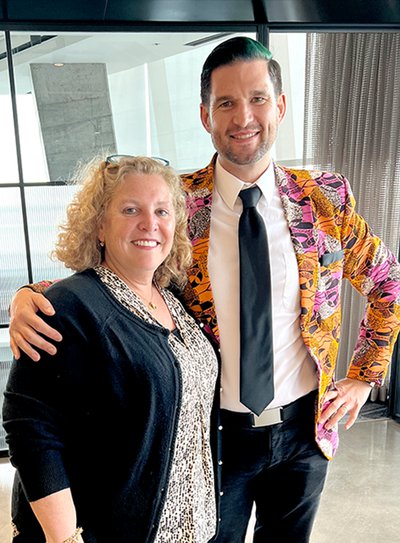 In 2019 Kevin Gibbons, co-founder of Health Access Connect, was paired up with Pfizer executive Majorie Norman to advance his leadership and social impact. These two, who remain in close contact today, Marjorie sits on Kevin's Board of Directors, sat down with us for an interview about the important role mentorship has played in their lives. Business mentorship is a critical part of The Global Good Fund Fellowship. Each Fellow is paired up with 1 c-suite business executive who serves as a mentor providing specialized support as they develop their business in tandem with their personal leadership. It is critical that we continue to pair deserving social entrepreneurs with seasoned executives to create a more equitable and just world. A $2,500 gift to The Global Good Fund provides 5 months of executive mentorship! Read what Kevin and Marjorie say below.
Q&A with Kevin Gibbons + Marjorie Norman
Q: Why is having a mentor important to you?
A: "Sometimes being an entrepreneur is very lonely, and having so many people relying on you to make decisions can be a heavy load to carry. For me, having a mentor means getting someone to bounce ideas off of, and a partner to that will hold up a mirror to you when you need it most. Majorie gives me the truth, even when I don't want to hear it, and I believe everyone needs someone to do that for them." -Kevin Gibbons
Q: Why is mentoring others important to you?
A: "I have been fortunate in my career both at Pfizer and other healthcare organizations to have had wonderful people mentor me, so I feel being a mentor is the type of thing that you have to pay forward. It's really important to have different mentors for different aspects of your life because one's professional needs and personal needs often require different support. When I see an opportunity to leverage my experience for young social entrepreneurs, I am always happy to do so." -Marjorie Norman
Q: What is the best advice Marjoie gave you?
A: "I have known Majorie for 3 years now. When we met I was really struggling with how best to engage my board members, my team and friends of the organization; specifically, I didn't understand what I wanted my stakeholders to do, or what I needed from them. Marjorie recognized this, so she started by helping me focus and better understand my role in my company. From there I began to feel more confident, and started listening to the voice inside my head. She told me and taught me how to make clear and specific asks." -Kevin Gibbons
Q: What advice do you always give a mentee?
A: "One of my mentors once told me that I'm not trusting enough of people. She challenged me to implicitly trust new people instead of not trusting them out of the gate. She gave me a '100 point narrative' where every new person gets my full trust, or 100 points, and those points are theirs to lose as our relationship progresses. Previously, I would start people with 0 points, and make them gain my trust over time. Neither is perfect, but it's certainly a more positive mindset to start at 100 than to start at 0." -Marjorie Norman
Q: Does having a mentor influence your desire to mentor others?
A: "By staying closely connected with The Global Good Fund I have had the opportunity to become a mentor to others. More specifically, I got to mentor an entrepreneur in their 'Good Biz' Program (a partnership between GGF and Goodwill Industries). Through this experience I learned that mentoring was both humbling and confidence-building; you don't know what the other person knows, and they don't know what you know, but you are there to listen and give feedback to help them be the best version of themselves. Marjorie's confidence as my mentor made me want to pay it forward as a mentor to other people." -Kevin Gibbons
Q: What is the most exciting part of mentoring a GGF Fellow?
A: "The scope of positive impact and diversity of the social businesses operated by the people Global Good Fund selects as Fellows just blows my mind. And I love how these social entrepreneurs do not take no for an answer; they are so dedicated and passionate that they allow nothing to get in their way. It's fun and meaningful to meet and mentor such remarkable and different people every year." -Marjorie Norman
Thank you for taking time to visit our blog. This is just one of many tranformational mentor-mentee pairings produced by The Global Good Fund. Please pledge your support by November 23rd as we will be selecting our 2023 cohort based on commitments confirmed by that date.